Are we in a recession? Or is that the wrong question to be asking?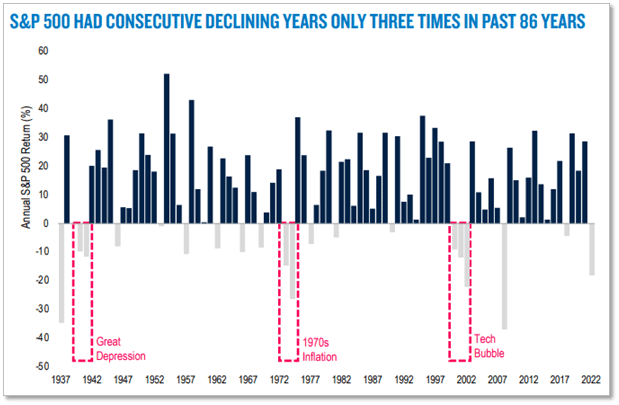 This year is proving to be a hard year for economists to predict. We have never faced a post pandemic economy, recovering from supply chain interruptions, while a significant armed conflict continues for the second year. The last time we had persistently high inflation was in the 70's and much as has changed since then. There really is very little in history to give us a clue about whether there will be a recession or not this year…. And that makes it tough for investors to sort out what to do.
But are we asking the wrong question?  Does it matter if we have a recession? Does it matter how quickly inflation abates? If we take a historic look at the performance of the stock market, while the S&P 500 fell 18% in 2022, back to-back years declines are rare, occurring only three times in the past 86 years. The S&P 500 gained 15%, on average, in the year after its 21 negative calendar years since 1937. Please see the chart below for more details.
The takeaway? For the long-term investor this unsettled time in the economy may present an opportunity. If history is an indicator, whether it is this year or next, the stock market is likely to create an opportunity for gains. As long as you have a long enough time horizon, patience in this situation should prove to be a solid course of action.
Picture source: Morningstar as of 12/31/2022. S&P 500 Index is an unmanaged index of 500 common stocks of large U.S. companies, weighted by market capitalization. An investment cannot be made directly in an index. Past performance does not guarantee future results.
The opinions voiced in this material are for general information only and are not intended to provide specific advice or recommendations for any individual. All performance referenced is historical and is no guarantee of future results. All indices are unmanaged and may not be invested into directly.